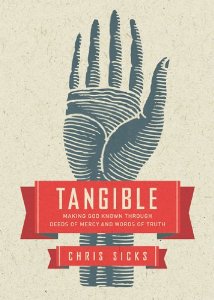 My friend and former student, Chris Sicks, wrote an important book titled Tangible: Making God Known Through Deeds of Mercy and Words of Truth. In today's Church there seems to be two well-intentioned groups. "Deed" people feed the hungry and help the poor while "Word" people proclaim the Gospel and engage in apologetics. The two often seem to compete with one another, but God always intended them to be partners. Sacrificial love can grab the attention of those we serve, opening their ears and minds to the words we share.
Chris was my student at Reformed Theological Seminary, where his personal ministry and his studies in my apologetics course combined to develop his thesis, which forms the basis for his book. His labors have resulted in a great book that I am proud to endorse and plan to assign in future courses. Chris cares passionately and has thought deeply about this topic.
He invited me to write the foreword, which is below.
---
At the beginning of Jesus' ministry, He stood up in the synagogue at Nazareth and declared that He was the fulfillment of these words of Isaiah: "The Spirit of the Lord is upon me, because he has anointed me to proclaim good news to the poor. He has sent me to proclaim liberty to the captives and recovering of sight to the blind, to set at liberty those who are oppressed, to proclaim the year of the Lord's favor" (Luke 4:18-19). In this declaration and in His ministry Jesus showed that bringing freedom for captives and relief to the poor and oppressed are at the very center of His divine mission. His ultimate act of liberation was His sinless life, substitutionary death, and victorious resurrection, which set His people free from slavery to sin and death. Yet His teachings and example show us that if the gospel message is to be recognized in its full power, the proclamation of the good news of Christ's saving work should be accompanied by tangible acts of love, service, and mercy toward our neighbors.
Historically, the Christian church has at its best been known for exemplary love and sacrificial service to "the least of these"—the poor, oppressed, and marginalized. Such service has provided a powerful apologetic for the gospel. The fourth-century church provides one example:
In his attempt to reestablish Hellenic religion in the empire, [the emperor] Julian instructed the high priest of the Hellenic faith to imitate Christian concern for strangers. . . . He therefore instructed the priest to establish hostels for needy strangers in every city and also ordered a distribution of corn and wine to the poor, strangers, and beggars. "For it is disgraceful that, when no Jew ever has to beg, and the impious Galileans [Christians] support not only their own poor but ours as well, all men see that our people lack aid from us. Teach those of the Hellenic faith to contribute to public service of this sort."
In more recent history, Christian churches of the eighteenth and nineteenth centuries led the charge for the abolition of slavery, again providing a strong apologetic for the Christian faith and visibly embodying Jesus' mission to proclaim liberty to captives.
Mercy ministry is an opportunity for Christian churches to take the gospel to those most in need, provide the marginalized and oppressed an alternative community centered on Jesus (the church), and show the transformative power of the gospel to the watching world. Moreover, responding to social injustice in our communities is a way the church can practice the charge of Jeremiah 29:7 for God's people to seek the welfare of the cities where God has placed us, and to obey the call of James to practice "pure religion" (James 1:27) by caring for the most vulnerable.
Chris Sicks knows firsthand that mercy ministry is an effective apologetic for the gospel. A former atheist who rejected many intellectual apologetic arguments, Chris is now a pastor who leads numerous mercy ministry initiatives. He has seen with his own eyes how God uses the church to both help hurting people and to reveal Himself to them and others. In the midst of their suffering, people need to see God as Rescuer, Healer, Comforter, and Savior. Thousands of Christians are already serving the poor and oppressed, and many are also committed to the work of apologetics. Sicks' intent is to help the church see how deeds of compassion can be a compelling argument for the existence of a loving God.
Chris is not promoting a repackaged Social Gospel. He understands that the gospel cannot be communicated through deeds alone; as Duane Litfin has written, "If it is to be communicated at all, the gospel must be put into words." In this book, Chris repeatedly emphasizes that deeds of mercy are insufficient in themselves, and do not by themselves form an apologetic. Instead, the combination of deeds of mercy and words of salvation comprise what Chris has called the apologetic of mercy.
Most apologetic strategies target the head. In contrast, the apologetic of mercy begins with the heart. It is often in the midst of our pain that the "God of all comfort" makes Himself known most clearly. This is not a new idea, but it is the pattern of God's gracious interaction with His people in the Old and New Testaments, and continues in His dealings with us today.
God has placed each of us in a particular place, in relationships with people who have needs. If we ask Him to use us to reveal Himself, we will have the privilege of showing His compassion and love to hurting people. As we make meals, give rides, or provide shelter, we will build relationships. When we share the gospel in the context of a merciful relationship, we speak with authenticity. Our words about God's love are believable because we have shown God's love in action and in truth (see 1 John 3:18).